Dale Berning Sawa
Fri 16 Mar 2018
A one-off Facebook invitation to see the latest Palais de Tokyo exhibition nude out-stripped expectations – and left thousands on the waiting list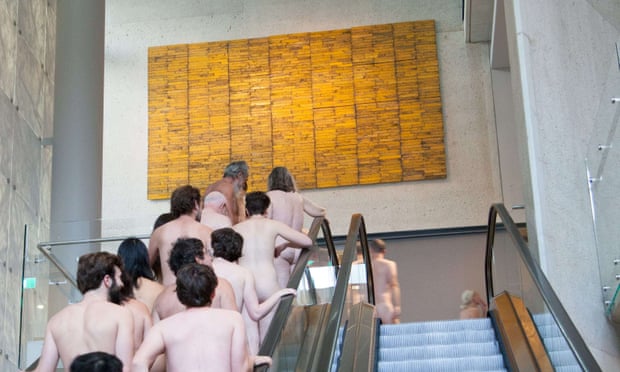 A naked tour of the National Gallery of Australia. Photograph: Christo Crocker/AFP/Getty Images
The Association des Naturistes de Paris (Association of Naturists of Paris) has announced – and rapidly closed, due to a rush on the limited spaces – a naked tour of the Palais de Tokyo on 5 May. The French capital's contemporary art hotspot will host an exclusive matinee for members of the association to visit the museum-wide Discorde, Fille de la Nuit exhibition.
The tour will, l'Internaute reports, commence at 9:30am, guided by a member of the gallery staff, also in the nude, and take in works by eight different artists, including the British artist George Henry Longly and French collaborators Kader Attia and Jean-Jacques Lebel.
While the Palais de Tokyo's regular collaborator, Anna Wanda Gogusey, is behind the event's delightfully sunny poster, the gallery itself did not advertise it. When the Guardian asked why, the reply was circumspect: "It is an event proposed and led by the naturists themselves; they can tell you more."
Laurent Luft, the president of the ANP, says the idea was the gallery's: "They contacted me in December, just as I was beginning to think we should do a cultural event of some kind." They explained they were looking to do new things, to which Luft replied that they were of course interested, but had the gallery seen the name of their association?
"We are nudists," said Luft.
"Yes, yes, we did know that," came their reply.
The invitation was, for Luft, something of a gift. And the enthusiasm with which the idea has been received, even more so.
The association on Tuesday posted an update, detailing the response its initial Facebook announcement on 7 March had elicited, replete with detailed statistics about who was interested and an impassioned statement.
"1,979,641 of you saw our announcement, 156,070 clicked on it to read more and 21,867 people registered an interest in this naturist visit."
"This confirms once again," the ANP's statement continued, "that nudity, the state of mind of nudism and the well-being [it brings] have far wider appeal than we could have ever imagined."
Luft said that older nudists often bemoaned what they see as a dying interest in the activity. These statistics, and recent events the association has organised, had proven them wrong. Last year's nudist bowling tournament saw a world-record-breaking 137 people attend.
"We would like to state, loud and clear," concluded the ANP on Facebook, "that the demand is there, in Paris. There are still far too few places where one can get naked."
Of course, doing so in a gallery might be a first in France, but it has been done before. Monica Tan, formerly the deputy culture editor of Guardian Australia, reported in depth on a nude visit to the 2015 James Turrell retrospective at the National Gallery of Australia, Canberra. Her experience elucidated quite why this might be a good thing to do. "It felt like skinny-dipping in the void," she wrote. A fellow visitor described it as "swimming in a pool of light", concluding that clothes would have irreparably altered the visit.
Artist Stuart Ringholt meanwhile has led several unclothed groups around the collection of Sydney's Museum of Contemporary Art in recent years. His reasoning follows similar lines – clothing, especially colourful clothing, detracts from the art on display.
That isn't the association's concern though. Luft is quite clear that the ANP's policy is that they are always naked, and can do everything, anything, in the nude. This visit will be no different. In fact he has already seen the show. Clothed.
Source:https://www.theguardian.com/artanddesign/2018/mar/16/naked-gallery-tour-paris-naturists-palais-de-tokyo