By Jan Dahinten
2018年1月23日 GMT+8
The World Economic Forum was disrupted as the heaviest snowfall in the annual meeting's 48-year history delayed the arrival of executives at the Swiss resort.
Traffic on the road leading up to Europe's highest town came to a standstill, forcing Swiss engineering group ABB Ltd. to cancel the appearance of its Chief Executive Officer Ulrich Spiesshofer at a media briefing about sustainable transport. The late arrival of equipment also caused Swiss bank UBS Group AG to delay a presentation, while the gathering's official opening was half an hour behind schedule.
The town, where Donald Trump makes his debut later this week, was put on the second-highest avalanche warning level by the Davos-based Institute for Snow and Avalanche Research. Large and easily triggered avalanches were likely in Davos, according to the institute, which has put swathes of surrounding cantons on the highest risk level. 
"We have a lot problems with the snow," the town's mayor Tarzisius Caviezel told reporters on Monday. "In the past 48 hours came more than 2 meters of snow and that's a big problem because we have to transport the snow out of Davos."
Caviezel said authorities had tried to trigger avalanches in the surrounding area earlier in the day by using helicopters to set off controlled explosions, but only two out of 10 attempts had been successful.
Trump Protest
Snow depths in Davos reached 1.75 meters (5.7 feet) on Monday, the most for the Jan. 15 to Jan. 25 period since 1951 and the second-highest since records began in 1931, said Stephan Bader, a climatologist at the Federal Office for Meteorology and Climatology.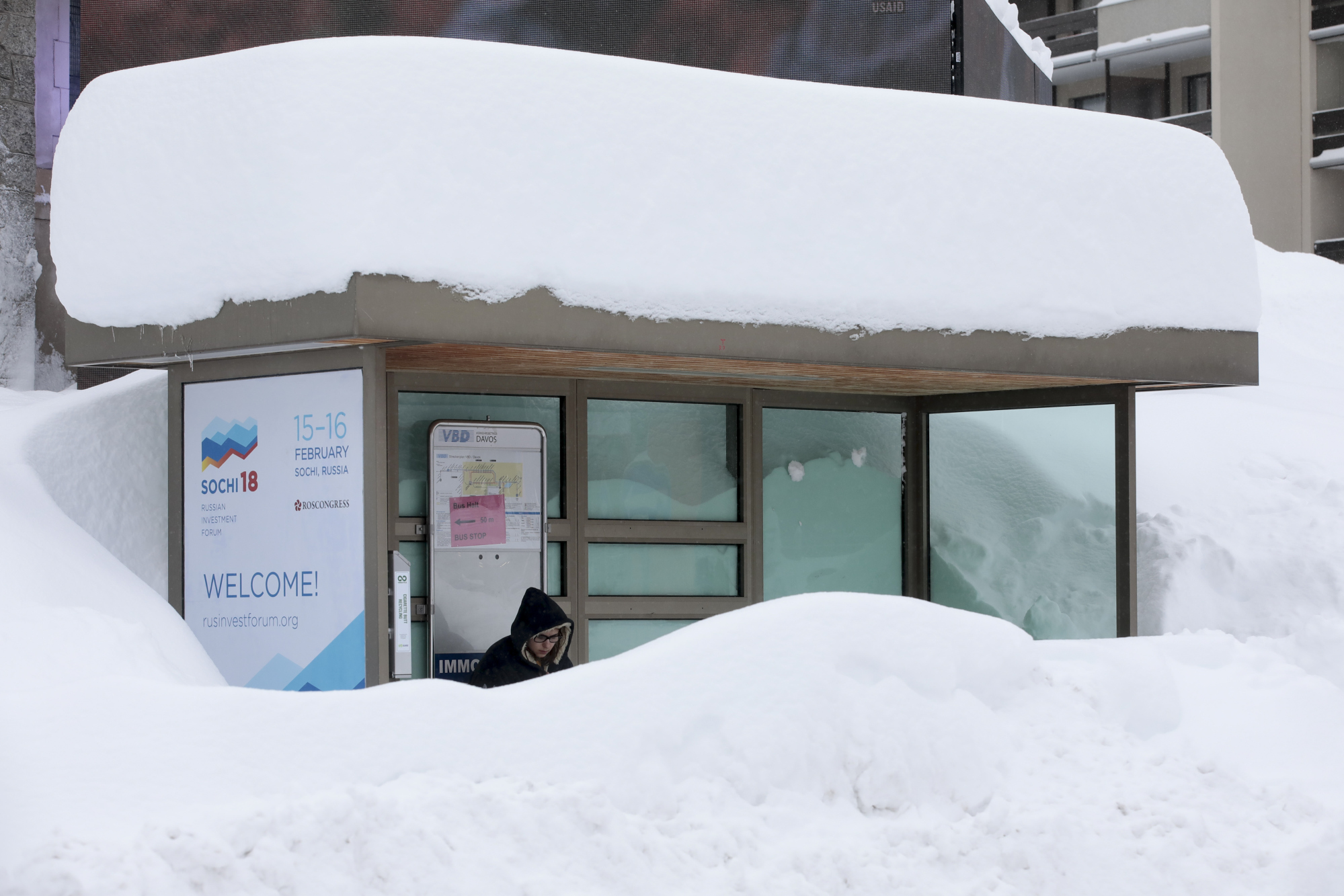 Local newspaper Suedostschweiz reported on its website that Davos's local council rejected a bid by the Social Democrats and Young Socialists to hold an anti-Trump protest during the U.S. president's planned visit on Thursday. Officials cited a lack of space due to the large amounts of snow on the town's roads and squares, the newspaper said.
Some of Europe's top ski resorts, including Zermatt in Switzerland and St. Anton in Austria, are cut off due to the avalanche danger. The avalanche risk will diminish during Tuesday as snow stops falling in the early hours of the morning, according to the Davos institute.
Source:https://www.bloomberg.com/news/articles/2018-01-22/davos-disrupted-as-executives-gather-amid-snowiest-ever-meeting