As told to Oliver Milma
Mon 24 Sep 2018 09.00 BST
Five people from across the US explain how extreme weather forced them out of their homes – not always to safer ground
'There was this intense feeling of denial'
Stephen Lipp, who left New Orleans for Houston
I grew up in New Orleans. When you're brought up there you realize you're below sea level: you see boats beyond the levee that are actually higher than you on the street.
When Hurricane Katrina hit, we were prepared and realized we had to get out of Dodge. We headed to stay with family in Houston.
I saw the pictures of the hurricane on and I thought: "Oh my gosh, everything I remember about this city has gone." There was a TV shot of my neighborhood; instead of a boulevard, it was a bayou. I called the kids in and said: "I think we've lost everything. We've lost our lives there."
I decided to move on even before I saw my house. Going back to New Orleans just reaffirmed that. The whole city smelled of death, it was rotting. It was horribly depressing. The water was up to the eaves of our house and all we managed to salvage was half a briefcase of items. Everything else, my music, my books, my memorabilia, was gone.
We moved to Houston. I managed to get a job in software development. We didn't appear to be in harm's way when Hurricane Harvey hit last year but I've never seen a flood of that magnitude before.
Even as the water rose I thought: "This will peak soon." But it rose, sat stable for a while, continued to rise and when it came into the house I thought: "This is crazy." There was this intense feeling of denial, thinking about how this couldn't happen again. There was a lot of shock and that night was hard – all the sewage was backing up, we had to stay on our beds to keep out of the water.
We had friends nearby who got us out the next day in boats. There's maybe one out of every five houses around here with a for sale sign because of the flooding now. I joke that towns should pay me to not move there in order to avoid being flooded.
We will stay, though – I mean, the chances of being hit by a third storm are pretty slim. Things aren't looking great for our planet but let's face it, I'm not living on geologic time.
'I hate the term climate refugee'
Chantel Comardelle, relocating with entire community from the Louisiana coast
Isle de Jean Charles is an island on the Louisiana coast that was settled by native American families who were pushed out of the city because they were native. It's as far as you can go down the bayou, you don't go there by accident.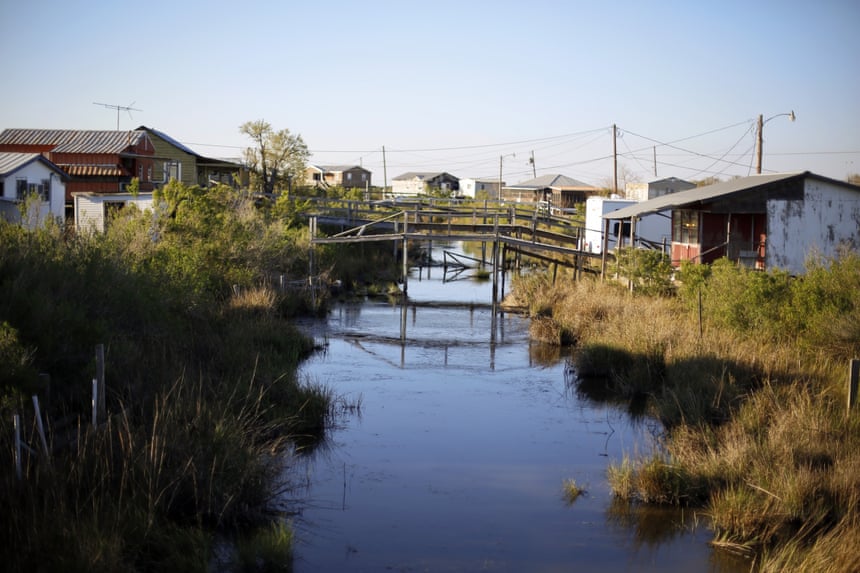 We have a very distinct culture. Our tribal family were fishermen, they lived off the land and traded with other communities. It was a close-knit community, everyone watched out for each other. We played stickball, did beadwork.
I was born on the island but had to leave when I was four years old because a hurricane flooded our trailer and I became very sick. The doctor said I couldn't go back because of the mold so we made the difficult decision to move to Houma.
I noticed the changes when driving down to see family on the island. There used to be land on either side of the road and now it's just open water. Everyone used to have gardens and now they don't, the salt water kills everything. On the other side of the levee there was marsh but now it's all water, it's all going.
A lot of younger people have moved away as you can't put every house on 15ft stilts. You couldn't get the school bus down the flooded road. [The tribe] made the decision to relocate and managed to get a grant from the federal government in 2016 to start that process.
We looked through sites and we now have somewhere about 30 miles away – construction will begin be sometime at the end of next year for 150 lots. It's very slow. It's been frustrating and also scary because of the risk of hurricanes.
The plan is to rebuild the community, make it what it was. There are still some people who are not ready to move, especially older people, and you have to be respectful of people's wishes. My grandma is 92 and she's never lived anywhere else but the island – for her to move to a new community is a big ask.
We are called climate refugees, but I hate that term. "Refugee" suggests something with no clear plan or action but we have a clear plan and are doing this as a unified tribe. Most people believe we have to move because of climate change and also because the oil companies dug canals that allowed salt water to intrude further. It's like we've hit the fast forward button on the environment.
We will be the first ones to face this in the modern US but we won't be the last. It's important for us to get it right so other communities know that they can do it, too.
'I think it gave me PTSD'
Gaye Marie Thurmond, moved to safer ground in Houston
I lived in the same house for 40 years with my late husband and children. They've grown up and gone now. We were flooded for three years in a row and Hurricane Harvey was absolutely the last straw.
We were never in the flood plain before, never really flooded … and then, bingo. I think it's because of the overdevelopment in Houston. We are near a gully and when the water backs up we flood because it's flat here.
I renovated and put the house up for sale after flooding in 2015, but when people heard it had been flooded they weren't interested.
We got 17 inches of water with Harvey. I think it gave me PTSD, my brain was in a fog. People are still suffering down here because of it.
I stayed with a friend for eight months because I was flat-out homeless. Every room had to be gutted and replaced. I suffered a lot of loss, but others suffered much more.
There was a [government-run] buyout program for flood-prone houses and I'd applied after the 2015 flood. Exactly one week before Harvey, I had the first monetary offer for my home. I didn't have much time to think about it, we went back and forth, they said they'd pay for my moving costs and I thought: "I'm good, I'm done."
It was hard to walk away from a home where you raised your children and your husband had died. But I had to get somewhere away from the flood plain. I got somewhere in the north-west of the city, it doesn't flood there. By the end I would've just accepted living in a tipi just to have my own place.
I went back to the old house after they razed it. I bawled like a baby when I heard it had gone but I drove up to see it. It was beautiful. I had six pecan trees, a grapefruit tree – they had left them there next to the grass. It was like a pocket park. Anyone can enjoy that park now.
'I can't believe they're still developing'
Dan Kipnis, who is leaving Miami Beach
I'm 68. My father bought a house in Miami Beach back in the day. Back then, it was pretty laid-back.
Now, the development is crazy. I can't believe they are still developing, they will still be building when they have water lapping at their feet. I'm now spending close to $20,000 a year on insurance because of the floods and the storms.
The house is for sale because I want to get the value out of it before the shit hits the fan. I did list it for $3.2m, but it's been on the market for two years and is now it's down to $1.9m.
I'm going to move to Palm Beach with my wife, rent an apartment and not give a shit if it floods because it'll be a rental. I don't care. I've been preaching about this problem for 15 years to try to wake people up. I want to get away from all the craziness, ripping up the streets to raise them, putting in new sewers, water pumps. The traffic is crazy.
I am a boat captain and I first noticed something wasn't right in about 1974. I saw that the barnacles were getting higher up the bridge pilings. Barnacles have to be in water all the time, and they were getting higher and higher, moving by inches.
I used to catch snapper, groupers, Spanish mackerel, amberjacks. I had 11 people working for me. I don't fish here any more because there's so much algae in Biscayne Bay that it's basically dead.
The other boat captains know that the water covers the dock now and it didn't before. But most of them voted for [Donald] Trump, they don't care, they are very conservative people. It's better to speak to the young people. It's going to be much worse for them. We are really screwing them over.
'Hurricane Matthew caused our home to be an island'
Laura Witham Spink, left Virginia Beach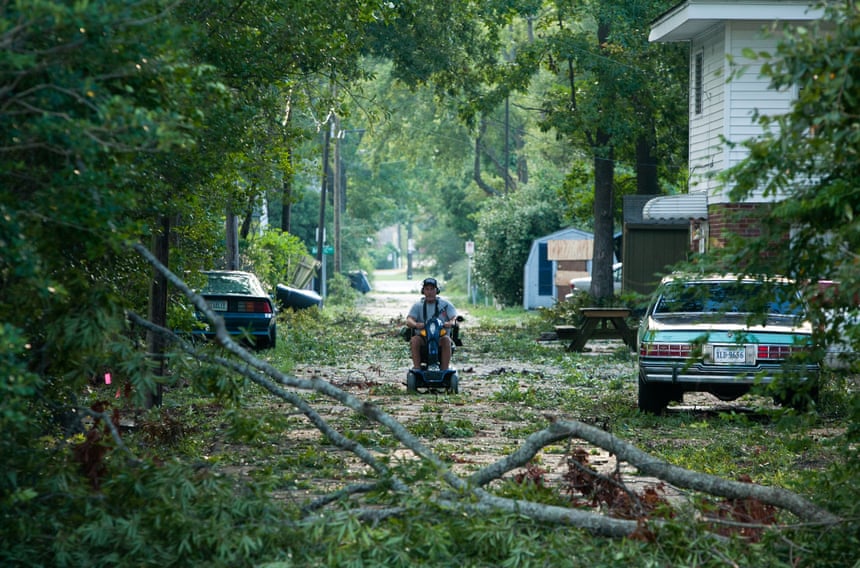 My husband was a navy officer at the base in Norfolk so we we moved to Virginia Beach, not too far away, in 1999. We have four children.
In 2006 we moved to a bigger house in what was a very quiet neighborhood. By 2017 development was popping up everywhere, and I also noticed that there was flooding from heavy rains, just regular storms.
Hurricane Matthew caused our home to be an island – the water came to the top of the car tires. After that the flooding became a nuisance and then a bit scary, we had to find a way around the water to find a way home. It flooded every time it rained. There were two roads into the neighborhood and when they were flooded we would park in the 7-Eleven and walk home. I kept rubber boots in the car.
The city decided to put a four-lane road in front of where we lived and the flooding was only going to get worse, so we thought we should sell or we'd never get out of this place. It is a pretty place but has just been given over to developers.
We made a loss on the house, sold it for $30,000 less than we paid for it. We never met the new buyer, no one ever asked about the flooding. They were from Virginia Beach so I'm surprised that they didn't didn't do their homework; I suppose they wanted a bigger house in a good school district.
We waited for the last child to leave high school and we moved. We liked the character of Norfolk and it's near my husband's job. Norfolk floods too but they are proactive about it – we did our research.
We have spent six months renovating so we are here for good. I'm not sure insurance will always be available if we went anywhere else on the coast.
Source: https://www.theguardian.com/environment/2018/sep/24/climate-refugees-new-orleans-houston-hurricane-katrina-hurricane-harvey