Farmers and others in Mildura region are warning trees could be left to wither and die
A huge expansion of irrigated crops in the Mildura region of the lower Murray is threatening to overtake the water available in the river, and has set the scene for a disaster if drought conditions return.
A 16-day heatwave that hit the region this summer exposed the vulnerability of the Sunraysia and western New South Wales regions. During that time, the Murray-Darling basin's water managers scrambled to meet demand, as the region experienced a run of days over 35C between 16 and 29 January.
But it is the long-term scenario that has environmentalists and water authorities worried. Growth in permanent plantings, mainly water-intensive almond trees, has dramatically increased in the region.
In the 20 years from 1997 to 2015 the area under irrigation in the Sunraysia district increased by 41% or 45,000 hectares, according to the Sunrise project that uses aerial photos to map land use.
There was some reversal during the millennium drought, but the pace of expansion has intensified in the past two years.
An additional 4500ha of permanent plantings (mainly almonds) was planted last winter and another 15,500ha is due to go in over the next five years along the lower Murray.
"The whole region is booming agriculturally," Andrew Kremor, Lower Murray Water's manager of customer and stakeholder relations, said. "Almonds are booming, table grapes are booming, even wine grapes."
Kremor said Lower Murray Water had managed to meet demand during January's hot spell by planning ahead, raising the level of water in storages and reminding users of conservation measures such as watering at night.
But the Victorian Farmers Federation's water council chairman, Richard Anderson, said the region had been "just days off facing major water restrictions". He said: "If the hot weather had continued, we would have been in real trouble."
Anderson said the problem was likely to get worse because many of the almond trees had yet to reach maturity, which would increase the demand for water.
Much of the irrigation expansion is also taking place on the basis of temporary water rights that are purchased each season, raising fears of what will happen if there is another drought.
The ability to trade water throughout the Murray-Darling basin system has created a kind of gold rush. Under the Murray-Darling basin plan, it is possible to buy water rights outright or for a season from water holders and use them elsewhere in the river system. Restrictions are only triggered when river levels fall below certain thresholds.
As well as issues around availability of water, there are also delivery constraints. The Bambah choke limits the flow of water from the upper Murray to the Sunraysia region.
Longtime resident of Mildura and celebrity chef Stefano de Pieri is worried. "Citrus is going very well, because of China. Also table grapes. People are investing a lot of money in almonds. At the moment they are doing well, but how long is a piece of string? Where do they get the confidence from?"
"I am baffled because there is no real sense of what water is truly available and what is not," he said. "Buying, selling, renting. No one can really guarantee me that this water is available."
In the millenium drought between 2005 and 2009, farmers in Mildura went through the heartbreak of having to leave citrus orchards and vineyards to wither. A number of family farms went under. De Pieri fears it will happen again.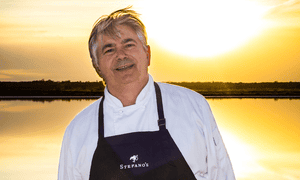 The Murray Darling Basin Authority, which has oversight of the basin plan acknowledges that the risk of not having enough water to meet demand in the lower Murray has gone up substantially.
"From governments' point of view – and that's commonwealth and state governments – we are aware of the increasing development and are doing quite a bit of work on understanding what that will mean for future water demand," said the MDBA's executive director of river management, Andrew Reynolds.
"We got through that peak period this year – we managed pretty well – but we are conscious that if development continues, the risk profile increases as well."
He said the MDBA's role was to make sure investors were aware of the increasing risks and to provide information so they could make informed decisions.
He said the MDBA was doing research on when nut plantations require their peak amount of water and how this would interact with demand from other crops.
Reynolds said if another drought occurred the price of water rights was likely to rise sharply but this would likely prompt seasonal crop producers such as cotton and rice growers to sell their entitlements rather than plant.
A water gold rush
In Mildura, between 2005 and 2009 during the millennium drought, large areas under irrigation were left to die after farmers who had been reliant on purchasing temporary water found themselves facing impossible prices.
At the moment Mildura feels like a boom town, riding on the water equivalent of a gold rush.
When the Guardian visited last week the coffee shops were full and the main street busy. Evidence of expansion of irrigation was everywhere, with new plantings taking root, literally.
The local press was trumpeting the record prices being paid for irrigated properties.
Last week CK Life Sciences International, a company owned by Hong Kong billionaire Li Ka Shing paid $45m for citrus and grape producer Naniloc Colignan Farms. In 2016 the company snapped up Seven Fields at Redcliffs in 2016 for $90m.
"The last 20 years has seen huge corporatisation and huge usage of big tracts of land to grow things. The game has changed. Whether the plan itself was the driver of this expansion, or the expansion itself is globally driven, it's not clear," De Pieri said.
He says the risk will be to the remaining small family farmers who will face skyrocketing water prices in a dry season. "We are operating in a vacuum, it's grab what you can, when you can," says De Pieri.
Source: https://www.theguardian.com/environment/2018/mar/22/murray-darling-system-under-strain-as-tree-plantations-increase-41