As solar farms spread across the central agricultural regions of the sunshine state, opponents are becoming increasingly vocal
Colin Ash has spent a working lifetime in the cane fields near the Pioneer River in central Queensland, out past Marian, where the mill has processed sugar for more than 130 years.
"You can't get sentimental about things," he says from the front seat of his truck as he drives slowly around the boundary of his property. "You've got to pay your bills."
Almost two years ago Ash agreed to allow a solar energy company, Esco Pacific, to lease 169 hectares – about half his land – to build a solar farm of about 180,000 panels.
The scenario is increasingly common as renewables projects spread across the sunshine state, in some cases swallowing large parcels of productive agricultural land. Clean energy offers billions in potential investment and thousands of jobs for regional Queensland. But it also faces on-the-ground challenges, including turf wars with intensive farming that threaten to hamper the energy sector's transition.
Ash's decision to offer up part of his Mirani property for solar has made him something of a divisive figure locally. Two fellow growers objected, as did the company that buys and refines his cane, Mackay Sugar. Mackay regional council, whose planning officers had backed the project, voted to reject the application. Legal action is afoot.
Whenever he's asked about the state of the sugar industry or the challenges faced by cane growers, Ash just makes a downward motion with his arm.
He wanders around his block, pointing to patches of standover cane – left unharvested from the previous season – where solar panels will ultimately be placed. He says part of the field to be given to the solar company was planted with cane just four years ago.
"If I had my time over again I wouldn't have planted it, the way the industry has gone," Ash says. "When [the solar plan] come around, the way the industry was going, it was going backwards and it was one way of diversifying into something that's friendly, it's not going to do harm.
"And if it doesn't work, well, they'll reinstate the ground back to how it was. You're not putting it under cement or doing that sort of thing."
'It's a very sunny place' 
Modelling released by the Climate Institute last year showed Queensland had the potential to power 4m homes through renewable energy projects and create more than 7,000 jobs over the next decade, many of them in north and central Queensland where many local economies are struggling with high unemployment and the hit-and-miss legacies of mining and gas booms. The number of jobs on offer is considerably more than at Adani's Carmichael coalmine, a project touted by many in these parts as an economic saviour.
Andrew Stock, an energy expert and councillor for the Climate Council, says about $1.6bn of renewable investment is being built in Queensland.
"Obviously … it's a very sunny place so solar projects both large and small, are very well suited to Queensland and north Queensland," he says. "The amount of energy they can generate … is among the highest output of any solar farms in Australia."


The clean energy regulator says the government's 2020 renewable energy target has effectively been met by projects either built or under construction. Incentives have led to an industry boom but there is a danger it will shift to bust without changes to policy settings and planning regulations that could threaten the pace of the renewable transition.
Stock says the federal government's national energy guarantee is "woefully inadequate" and will bring forward no new renewable energy capacity over the next decade.
"If electricity demand doesn't grow, and no existing coal plants shut, the modelling by the energy security board last year shows there are virtually no new renewables … that need to be built," he says.
"And that's potentially a problem for renewables, that pipeline of investment projects, probably between $7bn to $10bn worth of investment, many thousands of jobs … and that's all put at risk because under the Neg, the emissions reduction requirements mean that there's virtually no new renewable capacity that's needed."
From overhead, the cane fields are a mesmerising combination of bright green and right angles, stretching for country miles. About 300km to the north of Mirani, near the banks of the Burdekin River, patterned rows of black panels suddenly consume the landscape.
The Clare solar farm is the state's largest, and last month was connected to the energy grid. In 2015 it caused angst among cane growers and was subject to a legal challenge led by the local milling company, Wilmar, until being "called in" by the state government, a process that overrides local planners on matters of state significance.
The same conflict between sugar and solar has been repeated at Mirani, and will be again.
"The Queensland government has a very strong policy of supporting solar renewables in general," says Georgina Davis, senior policy adviser for the Queensland Farmers' Federation. "They didn't make provision to plan where they would go. They've let that be a market-driven process.
"It's just been an unfortunate sort of effect that some of those sites have been on [good quality] agricultural land. Their primary focus is looking for a piece of land that has a willing seller or a willing renter, and that has the access to infrastructure they need."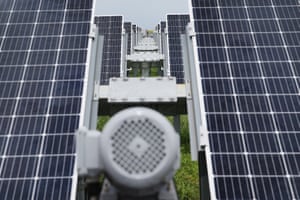 Solar projects are more efficient, and more profitable, the closer they are built to existing substations, which means proponents have targeted certain blocks. The Australian Energy Market Operator issues ratings called "marginal loss factors" which score renewable projects based on local demand and effectively determine how much energy that project can feed into the grid.
"The adoption and interest in large-scale solar has been so quick, and it has had to be quick," Davis says. "A lot of them have been in a rush to get these facilities up compared to their competitors … Once that capacity is gone, it's gone."
Although the operation of the energy market has exacerbated land-use conflicts, planning policies also lack consistency when it comes to land disputes between agriculture and renewables.
The Queensland state planning policy lists enabling renewable energy projects as a priority. It also aims to minimise "encroachment on agricultural resources to ensure viable tracts of agricultural land are maintained".
The farmers' federation and the farm lobby group AgForce have called for a solar code that provides protection for high-quality land and establishes rehabilitation bonds, similar to those for mining tenements. Graziers are worried about the effect of power lines connecting some facilities, and farmers are in some cases uncomfortable that they are close to projects.
'The industry has got a lot to prove yet'
The Mackay mayor, Greg Williamson, says his council would have supported a solar farm proposal had it been on "rubbish land" but state policies required it to consider the agricultural impacts.
"It doesn't matter whether it's the one that's being contested now or not," he says. "If it's growing 9,000 to 10,000 tonne of cane a year and it [is good quality agricultural land], we're obliged to consider that. And really nothing else trumps it."
Even if state government policy did not mandate the consideration of agricultural land, the council's priority is sugar, rather than solar, Williamson says. The council has "nothing against solar" and considered building its own solar farm, but found ultimately it would not produce savings to justify the investment. Instead, the region is putting panels at individual council sites.
"We don't want a future for our industry to be less cane farms and to grow solar panels," he says. "We want more sugar to be produced. We want to grow more sugar for the right outcomes."
Stock says communities such as Mackay, which is a hub for the Bowen basin's coalmines, should be among the first to embrace the opportunities provided by renewables. They should "start to plan that transition in an orderly way so they don't end up being faced with really quite dramatic shocks to regional employment when mines close".
Williamson, who argues that Australia should have invested in new coal-fired power stations, bristles at that suggestion.
"Well, mate, hang on," he says. "Queensland generates 14.8 gigawatts of power to run every day and less than 5% has been generated by solar. The industry has got a lot to prove yet.
"From a council perspective, we have an industry [sugar] that produces $400m to $500m a year for our valley, for our region … It is not fair to level at council a head-in-the-sand attitude about renewable energy … when we have a vested interest in protecting an industry that provides millions and millions of dollars to this district."
For Colin Ash, that same industry, the one he's worked in for a lifetime, is getting to the point where he's struggling to make ends meet. Like many other growers he has everything – his income, and his ability to fund his retirement – invested in the land.
"It's not a goldmine what they're offering [for the solar development]," he says. "When this come along, that was one way of putting a bit of a buffer in there, without the cost of diversifying into something else.
"It was clean, green, and no trouble to go back to any other agriculture afterwards if it doesn't work.
"You just can't get sentimental about these things."
Source: https://www.theguardian.com/environment/2018/jun/03/sweet-turns-sour-queensland-split-sugar-solar