Valley of Desolation, Wharfedale, Yorkshire Dales: The snow revives innocence, but it's from this winter's dramatic destabilisation of the polar vortex and a reminder of climate change
Spring is held in a sort of suspense. The sun's growing confidence brings hope, but the blizzards are back again, shutting out the light, clogging the floor of Strid Wood with snow, smothering the first leaves of dog's mercury and ramsons. Around this date in previous years I have heard drumming snipe on the moors or found breeding frogs in the ponds around here, but there will be few such mood-lifting discoveries today.
Spring cold snaps are not unusual, but this one results from this winter's dramatic destabilisation of the polar vortex, the wall of wind that encircles the Arctic. As we have been strafed by snow, the temperature in parts of the sunless polar region has been as much as 35C above average, prompting fresh consternation among climate change experts.
Yet the effect on the ground here is not without its charm; in the Valley of Desolation, snow has draped itself over the tangled boughs of oak and dusted the brackets of a mazegill fungus so they look a bit like iced buns. It is a dissonant overlay of realities; the snow revives innocence, but the jarring background note is impossible to ignore.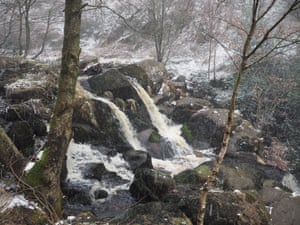 This secretive nick in the side of Wharfedale is misleadingly titled; it has a pair of exquisite, exuberant waterfalls and some lovely pockets of broadleaved woodland. But it can attest to the profound mutability of weather and climate. In recent times, it has been the site for an interesting reflection on Wharfedale's past: the plantations leading up the valley, designed by the Bolton Abbey estate's head forester, Roy Lingard, emulate the regeneration of the area after the last ice age, from post-glacial tundra to temperate woodland. And its Tolkien-esque name comes from an 1826 storm that was powerful enough to flatten many of its trees, leaving behind scenes of such destruction that the bleak moniker stuck.
All of which is a reminder that climate needs no help to change, or to wreak havoc, but we are giving it a shove; what this place may look like even in another 100 years is anyone's guess.
Source: https://www.theguardian.com/environment/2018/apr/02/country-diary-a-dissonant-overlay-of-realities