A very recent publication in the journal Earth's Future studied the impact of hurricanes on warm oceans in order to understand how warm waters fuel the storms and also how storms affect the water temperatures. With Hurricane Harvey, a near perfect natural laboratory was available in the Gulf of Mexico. Temperature measurements are plentiful there and the scientists were able to measure the total ocean heat content in the upper 160 meters just before Hurricane Harvey passed and compare the heat measured after the storm.
What they found was very interesting. As seen in the image below, before the storm (top frame), the ocean heat content was very high (red colors). After the hurricane passed (bottom frame), the waters were notably cooler.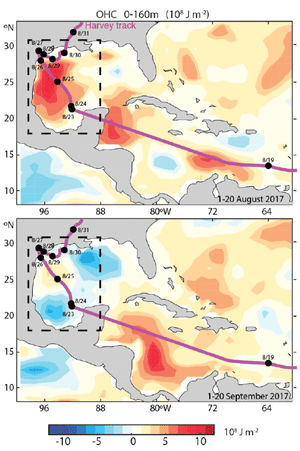 The scientists calculated that the waters lost approximately 6 x 1020 Joules of heat because of Harvey. That's about 10 million times as much energy as the atomic bomb dropped on Hiroshima. Then the scientists used rainfall data and calculated how much heat fell in the form of rain. The results were a nearly perfect match with the energy taken up by the storm. That is, they were able to balance the energy and water flows into and out of the storm to a very high level of accuracy.
With the passage of the hurricane and the "cold wake," it made the scientists consider how future storms would be impacted. That is, any storms following Harvey would pass over a cooler ocean and should not be as intense as Harvey was.
The researchers discovered that the so-called "cold wake" was still hot enough to fuel future storms. The surface temperatures were reduced by about 2°C (3°F), but remained above the threshold needed to fuel hurricanes. The reason why the waters remained hot was that the temperatures before Harvey were off-the-charts hot because of human warming. Just before Harvey, ocean waters both globally and in the Gulf of Mexico were at record temperatures.
So, what does this all mean? First of all, the balancing of energy flow into and out of a hurricane is a tremendous accomplishment and it validates much of what is understood about these storms. Secondly, this study shows that storms can become more violent in a warming world. Not only that, but there is the potential of getting very active seasons, as occurred in 2017. All of this is related to the high water temperatures not only at the ocean surface but also deep beneath the surface.
Source:https://www.theguardian.com/environment/climate-consensus-97-per-cent/2018/may/23/global-warming-made-hurricane-harvey-more-destructive