Fri 29 Jun 2018 15.35 BST
Saddleworth fires will also exacerbate problems as the UK's peatlands store huge amounts of carbon that they will release
Northern Europe should brace itself for more upland fires like the one on Saddleworth Moor this week as the climate changes and extreme weather events become more common, scientists have warned.
As the army joined firefighters to tackle the blaze near Manchester and a second fire was reported on nearby upland, scientists said similar events are increasingly likely in future, with potentially devastating consequences for the environment and human health.
Guillermo Rein, professor of fire science at Imperial College London, said recent studies showed "climate change is expected to increase the fire frequency and severity of wildfire in Europe".
He said the effect is predicted to be "even more pronounced in northern Europe, including the UK and Ireland".
Dr Richard Payne of the University of York agreed, saying that "devastating events like we are seeing today at Saddleworth Moor are likely to happen more often in the future". He also warned the fires would exacerbate climate change, as the UK's peatlands store huge amounts of carbon that is then released.
"The UK's peaty moorlands are crucial for the carbon they lock away as peat," he said. "Since the last ice age these peatlands have helped cool our climate but fires can reverse that effect, rapidly returning carbon to the atmosphere as carbon dioxide."
The fire at Saddleworth Moor could also have more immediate health implications. Prof Susan Page of the University of Leicester said peat fires release toxic chemicals into the air as well as small particulates that have long-term health implications – especially for children or those with existing respiratory conditions.
"For the Saddleworth Moor fire," she added, "a further concern is the industrial legacy of this region, with the peat soils containing the fallout from many years of heavy industry in surrounding towns and cities. The peat soils contain this pollution legacy in the form of increased levels of heavy metals, which will also be liberated into the smoke by the fires."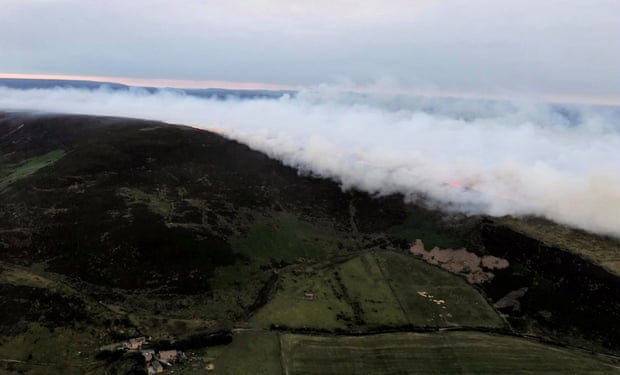 The Saddleworth fire has reached seven square miles across (18 sq km), with the active "fire front" stretching up to 2.5 miles (4km), according to firefighters, who say it could take weeks to put out. People across the region have been advised to stay indoors and keep windows shut.
Prof Vincent Gauci of the Open University said Saddleworth Moor had "been a sponge for regional pollutants for decades and centuries, as the region was an engine of the UK's industrial revolution", and warned the health implications of the fire were unknown.
He said: "With none of the current pollution abatement strategies in the early industrial period, these moors were on the receiving end of a whole range of quite nasty industrial pollutants. So these peats are a store of past pollution, which could be remobilised in the current fires with unknown consequences for human health."
Campaigners have also warned that the use of UK uplands for grouse shooting makes fires more likely. Guy Shrubsole, an environmental activist who is writing a book on land ownership in England, said there was "a strong correlation" between the fire on Saddleworth Moor and "the tell-tale signs of intensively managed grouse moor".
He said there was growing evidence that grouse shooting degraded the environment and made both flooding and fire more likely.
Pat Thompson of the RSPB said management of UK uplands for grouse shooting had made them more susceptible to fire over the past 150 years: "Over time large parts of the land have been transformed from wetlands with a high water table to a drier, heather-dominated environment."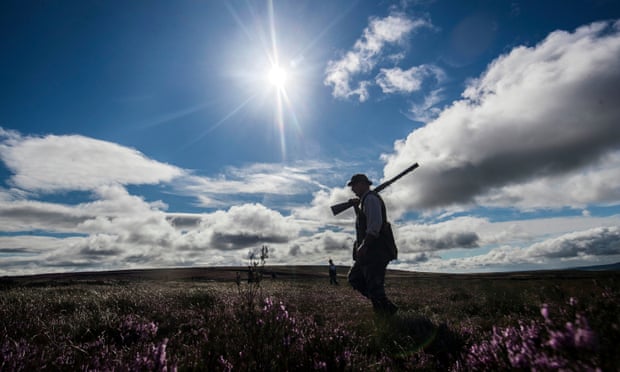 He said this made them more susceptible to fire and less able to absorb water, contributing to flooding.
"What we need to do is get this dry hard habitat back to being a wetland environment that can resist fire more effectively and across which water travels much more slowly," he said.
Thomas Smith at the LSE said other UK moorlands were highly susceptible with "moderate to very high fire danger ratings across most of the UK and the Republic of Ireland".
He said that besides the Saddleworth Moor fire, there were at least two fires burning in the Northumberland national park this week, "one of which appears to be quite large at over 2km across".
"The last time we had conditions similar to this was in spring 2011," he said, "when there were fires breaking out across the whole of the UK and the Republic of Ireland, from a forest fire in Berkshire to moorland fires in the Scottish Highlands. I should imagine that fire and rescue services in areas at risk will be preparing themselves for a busy weekend."
Source: https://www.theguardian.com/world/2018/jun/29/more-saddleworth-style-fires-likely-as-climate-changes-scientists-warn