BBC
2018/02/28
The Met Office has issued a red warning for extreme weather in Scotland, as a second day of heavy snow causes major disruption across swathes of the UK.
The alert covers the central belt, from Edinburgh to Glasgow, from 15:00 GMT, meaning the risk to life is likely.
It is the first red snow alert the Met Office has issued for Scotland.
Amber warnings are also in place elsewhere in Scotland, northern and eastern England, and the East Midlands, with road, rail and air travel hit.
A number of police forces have warned against driving because of poor visibility and treacherous conditions, leading to crashes and stranded motorists.
The snow has forced the closure of hundreds of schools from Cornwall to northern Scotland, after overnight temperatures dropped to almost -12C (11F) in some areas.
A number of flights have also been cancelled and rail operators have warned disruption will continue throughout Wednesday.
Rural communities could be cut off as power cuts and mobile phone network interruptions are expected.
The red weather warning means that extreme conditions are expected and immediate action should be taken.
The forecast from the Met Office, which lasts until 10:00 on Thursday, said: "Roads will become blocked by deep snow, with many stranded vehicles and passengers.
"Long delays and cancellations on bus, rail and air travel are expected [and] some communities could become cut off for several days."
It also warned of "long interruptions to power supplies and other services".
As many as 400 schools in Scotland have shut their doors, with hundreds more closing in England – including in Kent, Sussex, Surrey, Essex and Yorkshire – and some 25 closures in Wales.
Airports including London City, Glasgow and Newcastle have suspended flights as they work to clear snow from their runways. More than 100 flights at Heathrow have been cancelled.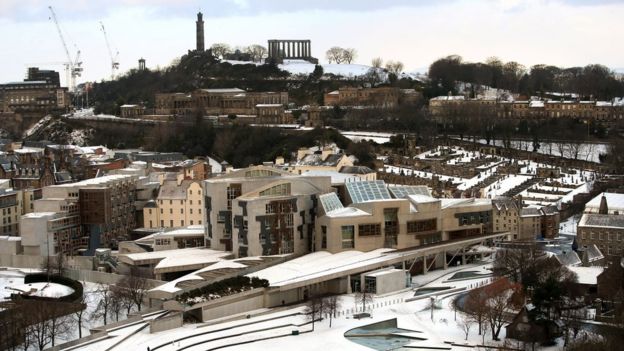 The Scottish Parliament, Holyrood, in Edinburgh, has been covered with snow
The Met Office has predicted up to 10cm (4in) of snow for parts of Scotland and the north of England by Thursday evening – although it could be as much as 40cm (15in) over hills.
The East Midlands, the east and Yorkshire and Humber are also expected to see up to 15cm (6 inches) of snow by Wednesday afternoon.
Up to 20cm of snow will fall across the south of England, Wales and the West Midlands on Thursday and Friday – reaching 50cm over parts of Dartmoor and Exmoor.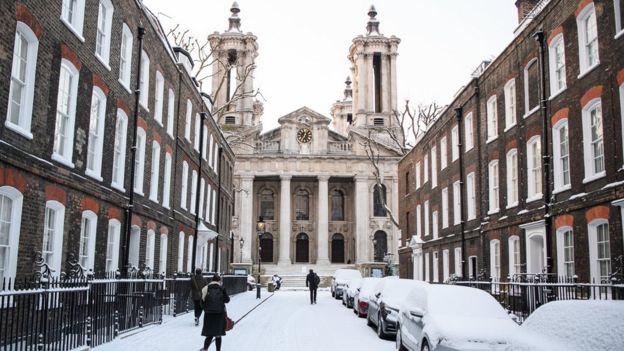 Snow has hit the commute in the capital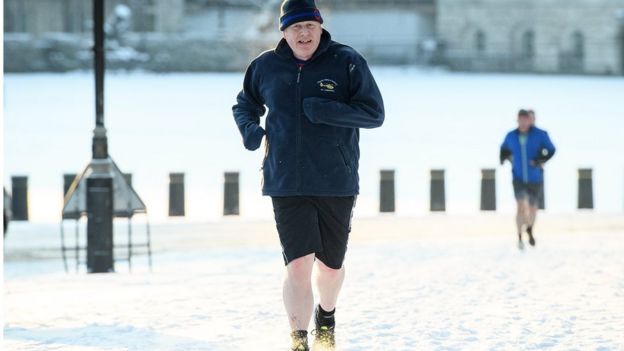 But the weather has not stopped Foreign Secretary Boris Johnson going for his morning jog
Freezing temperatures
The UK is experiencing what is predicted to be the coldest week of the winter in five years.
The lowest temperature recorded overnight was -11.7C in South Farnborough, Hampshire.
Other particularly cold spots were Cairnwell, in Scotland, Ravensworth, in North Yorkshire, and Frittenden in Kent.
From Thursday, the Siberian system is set to meet with Storm Emma, with forecasters predicting more snow, gales and sleet.