BBC
2018/02/18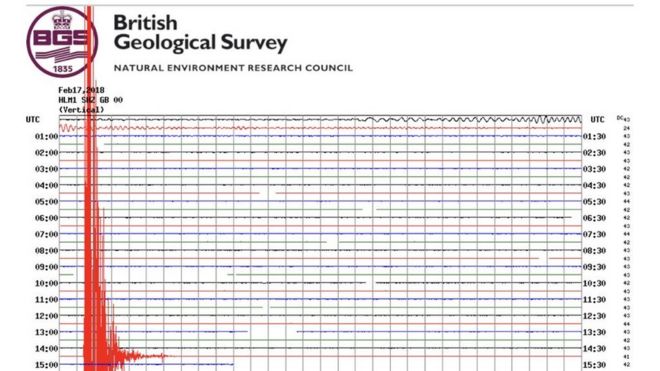 A seismometer shows the earth's movements on Saturday afternoon
A minor earthquake with a 4.4 magnitude has affected parts of Wales and England.
The quake was felt over all of Wales, most of western England, as far east as London and as far north as the southern edge of the Lake District, the British Geological Survey (BGS) said.
The epicentre was approximately 20km north-north-east of Swansea and at a depth of 7.4km, it added.
There have been no reports of serious damage or injuries.
Events of this magnitude happen in the UK every three to five years, the BGS said.
Roger Musson, from the BGS, said it was the largest earthquake in mainland Britain for the last 10 years – since one with a magnitude of 5.2 struck in 2008 in Market Rasen, Lincolnshire.
He said it was "relatively shallow" for a larger British earthquake. They are usually around 15-20km deep.