BBC
7 February 2018
A Canadian woman who was ending her marriage decided the best thing to do was throw a divorce party with friends.
Nicole Niesner, 36, and her friends pulled out their old wedding dresses for the celebration, which was documented with photographs.
The group of Saskatchewan women even recreated an iconic image from the TV show Friends.
The party was arranged after Ms Niesner received a letter advising her of the date her divorce would take effect.
The letter noted that 16 December was also the date she could legally remarry, something she said she found "kind of hilarious".
Ms Niesner began wondering how she would spend the day her divorce was finalised.
She said she faced three choices: pretend it was a day like any other, spend it crying, or celebrate a new beginning.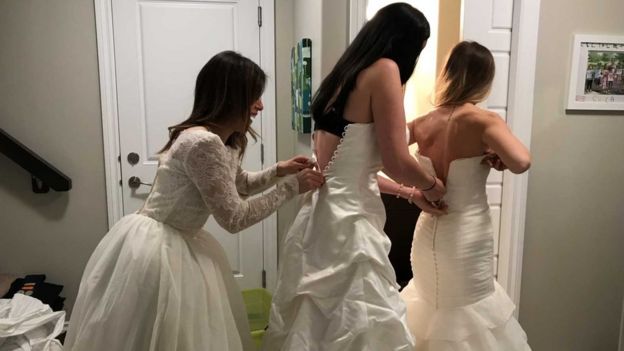 The wedding dresses still (mostly) fit
Ms Niesner decided on a celebration and reached out to a group of her close friends who arranged the rest of the celebration, including bringing the white gowns to her home in Regina.
"I was super surprised, I had no idea it was happening," Ms Niesner told the BBC. "They just arrived with all these dresses."
Ms Niesner said the evening helped her get over the sadness of closing one chapter in her life and starting the next.
It also taught her about the importance of friendship.
"Maybe I don't have the love of a marriage anymore, but I know I'm still loved by lots of people," she said.