We now use 14,000 of the handy cloths every second – but they are increasingly clogging rivers and putting wildlife at risk. So how can we wean ourselves off them?
On the eighth-floor isolation ward of London's University College Hospital, nurses have two lines of defence against the spread of life-threatening diseases. First are the airtight double lobbies in every room. Second – and, arguably, more importantly – are the disinfectant wipes they rely on to prevent the spread of germs and viruses.
For nurse consultant Annette Jeanes, the disposable flannels are a godsend that allow her and her staff, not only to protect themselves from superbugs such as C difficile and other viruses, but also to make the most of their time, a crucial factor in the National Health Service.
"It's hard to imagine a time when the NHS didn't use wipes," she declares as she surveys the length of T08 ward. "Our nurses are one of our greatest resources and we don't have enough of them. Wipes have made their lives easier and freed them up to do other things."
Similar arguments could be heard the length and breadth of the UK this week after the government announced plans to address the worst effects of wet wipes following a host of revelations about the ubiquity of the throwaway towels.
While the NHS – which is by far the biggest public sector user – can make a strong case for the necessity and benefits of disposable hygiene products, the picture is very different in wider society, where wipes can be more aptly described as a consumer luxury that chokes waterways and threatens wildlife.
Until now, the rise of the wet wipe has been irrepressible; its history a mirror of global inequality, consumerism and short-term thinking. In the 60 years since the first was deployed, usage has surged to an estimated 450bn a year – or about 14,000 every second.
Market research suggests wipes and other throwaway hygiene items are near-perfect markers of haves versus have-nots. In poor nations, usage is close to zero. But once average salaries rise to $1,500 per month, women begin to buy sanitary products. From $3,500, parents are willing to spend on disposable nappies. Once incomes hit $8,000, people splash out on wipes.
Age is also a factor. Younger generations whose bottoms were cleaned as babies are more inclined than their parents and grandparents to use wipes. Busy mums are the main market. In the US, 22 million Americans used pre-moist cloths 31 times or more within a week. Between 2005 and 2015, the surface area of non-woven wipes produced in Europe almost doubled.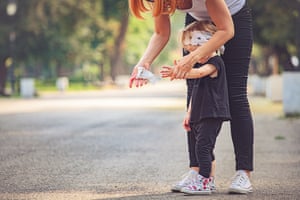 The supplanting of cloth napkins, cleaning rags and toilet paper began 60 years ago.
The first pre-moistened, scented napkin was produced in a Manhattan loft in 1958 by a former cosmetics industry employee, Arthur Julius, who later convinced Col Harland Sanders that his finger-lickin' chicken would sell better if messy eaters could clean up with the Wet-Nap® he had trademarked. Kentucky Fried Chicken has since given away close to a billion wipes. "Enough to reach halfway to the moon," a spokesman claimed, omitting to mention that disposal will have to be an earthly operation and not a cosmic one.
This is only a tiny fraction of the total. Tweaks to the chemical and manufacturing processes have led to alcohol swabs, baby wipes, airline refreshment towels, disinfecting tissues, antibacterials, makeup removers, insect-repellent towelettes and countertop cleaners.
Julius' company – Nice-Pak is still the market leader, churning out 150bn wipes per year – almost 5,000 a second. Rival firms spin out more than that number again, but the most modern products have little in common with the original.
Fibres of the paper can now be woven, spun-laced, doused in sanitising isopropyl alcohol, scented, and preserved with anti-fungal agents such as methylisothiazolinone.
But the fastest-growing market in recent years is for damp, chemically-treated alternatives to toilet paper, such as adult moist tissues, toddler care products and feminine hygiene wipes. Unlike baby wipes, they are designed to be flushable. Consumers do not appear to know the difference.
Cities are growing used to reports of subterranean "fatbergs" – giant blobs of congealed grease and other waste that blocks sewers. A study by Water UK found wipes made up 93% of the 300,000 sewer blockages that it deals with each year. Belfast, Denver, Melbourne and Baltimore have all been affected. The fattest fatberg found so far however was in Whitechapel, where sewer workers in hazmat suits had to clear a blockage the size of 11 double-decker buses. When a chunk was later displayed in the Museum of London, one reviewer compared the exhibit to the portrait of Dorian Gray, suggesting the foul-smelling waxy matter was "a kind of collective self-portrait".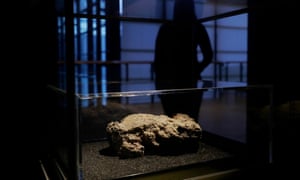 As well as ugly, it is expensive. Blockages cost the UK about £100m every year, according to Water UK's director of corporate affairs, Rae Stewart: "Water companies spend billions of pounds every year improving water and sewerage services in this country, but our sewers are just not designed to handle these new wipes which clog up the system. Sewer blockages end up costing the country about £100m every year so it's clear that something needs to change."
This has contributed to a second wave of pollution of the Thames. Following the contamination of the industrial era, London's river is now increasingly cloggedwith the detritus of the consumer age.
Walk along the bank near Hammersmith or Barnes at low tide and many of the exposed rocks are flecked with wet wipes discharged through nearby sewer outlets. These are now the most common item of rubbish found on the riverside, overtaking plastic bottles and cotton buds. The citizen clean-up group Thames21 recently claimed wipes are reshaping the waterbed after finding 5,000 in an area half the size of a tennis court.
Although some are supposed to be biodegradable, the risks do not go away when they break down. Kirsten Downer, campaigns officer for Thames21 fears for the herons and ducks she sees pecking on the dirty clumps in case they suffer the fate of fish.
"Wet wipes break down into microplastics, which can be ingested by marine and riverine animals, including zooplankton, and are entering into the food chain," Downer says. "More than 70% of Thames flounder surveyed have been found to have plastic in their guts for example and there are concerns that Thames oysters will likely contain microplastic too." Other sources of plastic – including clothes, cups and bottles – are also to blame.
The problem has also spread along waterways towards the coast.
Over the past 10 years, the Great British Beach Clean – an annual event in which volunteers collect rubbish from shorelines – has recorded a fifteenfold increase in the number of wet wipes. On average last year, they found one every five or six steps.
The government's promise of tough action on these single-use plastics has yet to be matched with deeds. The Department for Environment, Food and Rural Affairs said it is not planning a full ban on wet wipes, but says it will work with industry to develop plastic-free alternatives and examine which products are most at fault for sewer problems.
Other countries are also taking steps. The European Union is investigating wet wipes as part of a wider study of ocean microplastics. Earlier this month, Australian authorities fined Pental $700,000 for falsely claiming its White King wipes were flushable.
Industry leaders in other countries prefer to stress Britain's exceptional circumstances, saying the problem here is one of sewers rather than products. "I see issues in the UK that we don't have in the States, notably the presence of waste on the shoreline," said Dave Rousse, president of the the US Association of the Nonwoven Fabrics Industry. "This suggests – with a high possibility – that sewers are opening out directly into rivers. The waste water is not being filtered."
Rather than a ban, he said the best solution was for better markings on packaging and more education of consumers so they can distinguish between more "flushable" wipes – which are made of cellulosic materials (which break up and sink) – and regular thermoplastic wipes (which bind and float). But many environmentalists and water authority officials are unimpressed by the distinction, and the higher price of the more biodegradable products puts off all but one in 10 buyers.
Manufacturers are trying to develop greener products that use wood fibres and other natural materials. There are also calls for a universal 'Bin it, don't flush it' logo on packaging, but the best way to ease the wipe problem is to use them less or stop completely. To help, Thames21 have issued a guide for plastic-free parenting.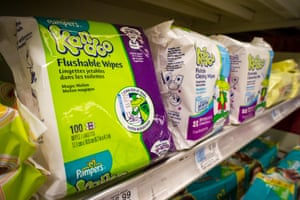 For the many individuals and institutions that cannot be weaned, the best bet is to seek the most nature-friendly alternative and to discard items responsibly.
At the University College Hospital, which gets through 90,000 packs of wipes each year, staff are trained to dispose carefully. Only used wipes contaminated by faeces, blood and bodily fluids and deemed to be 'infectious waste' are destroyed by incineration. All others are 'macerated' or pulped down and recycled.
Specialist medical suppliers are also working on solutions without plastic. They will inevitably be more expensive, but Jeanes supports change: "I can't see wipes disappearing from the NHS but it's a good thing if we are questioning whether we can do things in a way that is better for the environment and reduces our own waste."
Source: https://www.theguardian.com/environment/2018/may/11/from-babies-bums-to-fatbergs-how-we-fell-out-of-love-with-wet-wipes