Written by Yixian on January 17, 2014
(Translated by Ailian and Edited by Kaer)
After learning that the Second Home was suffering the terrible persecution and illegal disbandment, GEN launched the AVAAZ petition for us, the title of which is: Chinese President Xi Jinping – save the largest ecovillage in China.
Is the Second Home the largest ecovillage in China? As far as I know, the Chinese central government advocates the development of ecological civilization. Currently, there are all sizes and sorts of ecovillages are springing up throughout China. Some projects invested more than a billion Chinese Yuan. But why the Second Home is "the largest ecovillage in China?"
Let us have a look the information on Baidu:
The concept of "ecovillage", as defined by the Gobal Ecovillage Network, says that an ecovillage can be developed in both countryside and urban areas. The core qualities of an ecovillage is to change the lifestyle and that all the daily needs can be obtained from with walking distance.
GEN also defines an ecovillage from social, ecological, cultural, and spiritual aspects. On social aspect, residents in the ecovillages share a strong sense of belonging, they feel each other's mutual support and help. Also, they fully involve themselves in the decision making process. On the ecological aspect, they fully experience the connection with nature and enjoy their interaction with soil, water, wind, plants, and animals. On the cultural and spiritual aspect, most ecovillages do not particularly have their focus on specific spiritual practicies. They respect all lives and express their culture in their own way. They also respect spiritually diverse pursuits.
The ecovillages in western countries really care about sustainable living and how economic development could benefit the ecovillages and they focus more on green production and self-sufficient. They also pay a lot of attention to the application of modern technology.
The ecovillage concept and manifestation in China is geared more to focus on practical production modes such as ecological engineering (i.e. planting, breeding), and it emphasises economy, ecology, and social benefit.
We can see from the above descriptions that the concepts and emphases of ecovillages are totally different between China and western countries. in western countries, an ecovillage means a group of people who have the same belief and values living together voluntarily. The core quality is their changed lifestyle. People support and help each other, and people fully experience their connection and interaction with nature. Usually these ecovillags have good cultural and spiritual unity. However, the ecovillages in China are more like ecological projects guided by the government. If an ecological project is successful, then it becomes a vanity project. Most importantly, whether it is a good ecological project or not is valued by the economic benefit. Ecological development has been treated as a "selling point" and a luxury.
The Second Home reveres life and Mother Nature. In daily life, all members care about each other as well as about the animals and plants. We make the most use of everything and everyone can fully display their talents. People in the Second Home share the same belief. We work together and comply the same values. And all the resources are shared within the community. This kind of lifestyle might derive the least from Mother Nature, but you can feel great happiness.
We treat the Second Home as an ecovillage because we revere life and revere Mother Nature. Our life mode and our planning for the future are consistent with the ecological value of "people live in harmony with nature" as well as permaculture core values. And it is also in keeping with the Chinese ecological civilization development value of "respect nature, comply with nature, protect nature, and develop in a sustainable way". In addition, it is in line with the ideal of "beautiful China" , as is advocated by the Party Central Committee.
Everywhere we went, we worked very hard to improve our soil and plant natural and non-pollution vegetables. We planted flowers and trees, and turned our environment into a beautiful and tidy place. Birds sing and flowers release their fragrance everywhere within the community, and almost everyone living in the Second Home likes this kind of environment and living atmosphere.
In March, 2013, two permaculture experts visited the Second Home. They investigated our community and recognized our efforts to incooperate ecologically sustainable development. While with us, they gave us some suggestions. After that, we made numerous improvements in composting, mulching, excrement management, and in waste and sewage management.
In November 2013, Michiyo Furnhashi, a GEN board member and the president of GENOA, visited the 1st and 4th branches  of the Second Home, and had deep conversations with Xuefeng, the founder of Lifechanyuan. They found Lifechanyuan and Konohana Family share many of the same values. For example, we both place soul garden purification on the first priority and focus a lot on spiritual improvement. Furthermore, both communities produce most of their food ingredients from within their own vegetable gardens. All community matters are well divided and distributed among our members without any need for supervision or management. The lifestyles are healthy and natural, and both Lifechanyuan and Konohana Family revere nature and learn from nature in daily life. During her stay, Michiyo also gave us a presentation on how to make and use Konohana microorganisms. She suggested that we could produce Lifechanyuan microorganisms, it would have huge benefit for improving soil, reducing the odors from chicken manure and human waste, helping the plants grow well, fermentation, and regulating the physiological function of human body.
In addition, Lifechanyuan and Konohana Family have reached a high degree of consensus on macro development goals. In November 11, 2013,  the Second Home of Lifechanyuan and Konohana Family officially united into ONE big family. Also, the Second Home became a GEN member this year.
So in this sense, the Second Home has become the model of Chinese ecological civilization construction, and it is also the largest ecovillage in China.
Michiyo, president of GEN Oceania & Asia visited the Second Home in Nov,2013(1)
Michiyo, president of GEN Oceania & Asia visited the Second Home in Nov,2013(2)
Michiyo, president of GEN Oceania & Asia visited the Second Home in Nov,2013(3)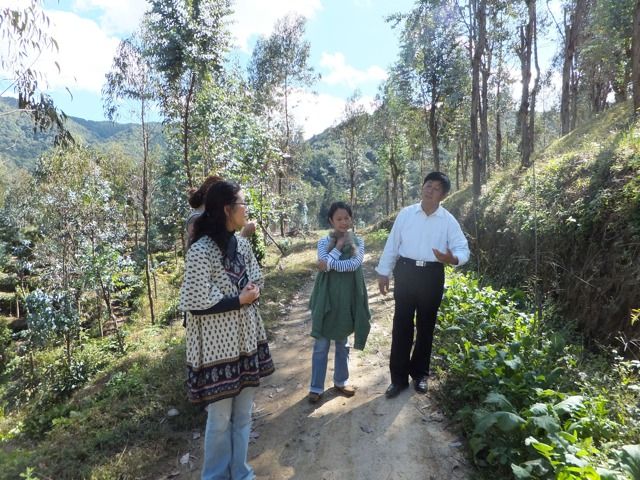 The exposed soil is planted with flowers and grasses.
Composting refuse pit and simple incinerator.
Moisturize by covering.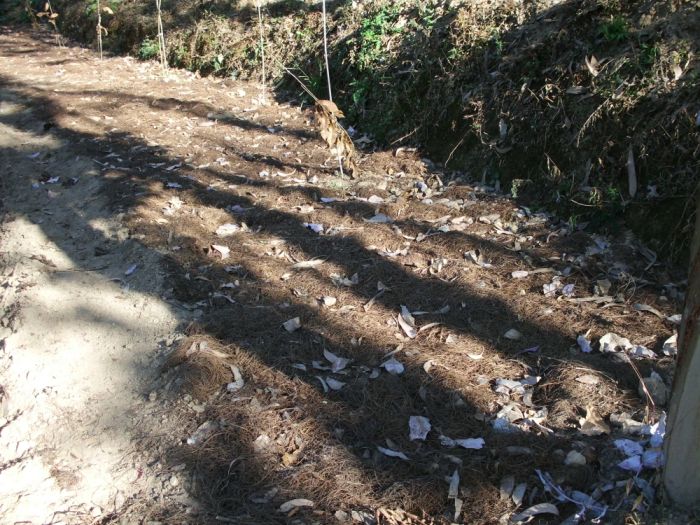 Scientific composting.
Scientific composting—pile-turning.